Know your Bag!
Have you sometimes struggled to choose a bag for yourself? Not sure which bag will go with what attire and for what occasion? If yes, then you will surely find a lot of help in this blog.
Here are some of the bags which are versatile and functional yet extremely elegant. In past 3 years I have created my own version of these bags keeping in mind the everyday needs as well as for special occasions.
Shoulder bags
One of the most favorite bags of women of all age groups and extremely comfortable to carry, these bags come with a single or double strap that goes over the shoulders.  They also come in various shapes and sizes. Team these up with your denims, ankle length pants and kurtis or formal wear and you are good to go.
                    Look: Bag currently out of stock
Everyday Bag
Size:  Medium
Style with:
Trousers/Silk Pants & Tops
Skirts
Dresses
Kurtis
Tote Bags
A Tote is a large, double handled bag usually with an open top. It is meant to carry a lot of stuff. Untill few years back I didn't see a lot of textile based Totes in India except for the Jholas. So while making our first few Totes, I had two important aspect in mind ~ Spacious & Classy.
Our Totes can carry your laptops/tablets, notebooks, wallets, keys and misc. So they are perfect for women who love to carry the world in their bags. They are also great as office bags. Unlike Jholas, our Totes don't look out of shape and bulky. We also added a top zip on these Totes to secure your stuff. So here is our version of the very classy Tote bag: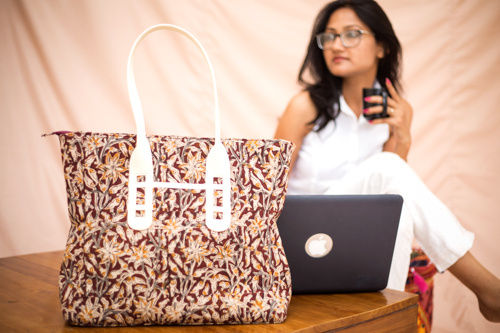 Look 2: Bag currently out of stock
Everyday Bag,  Office Bag
Size:  Big to Very Big
Style with:
Formal Attire
Semi-Casual Look
Bucket Bags
As the name suggests, the bag has a look of a huge bucket. Although a lot of Bucket bags come with a drawstring but we have a different take. Ours Big Bucket Bag comes with a zip top.
Here is what our take on Bucket Bag. We also call them Bucket Tote Bag because of the big size and functionality of our bags.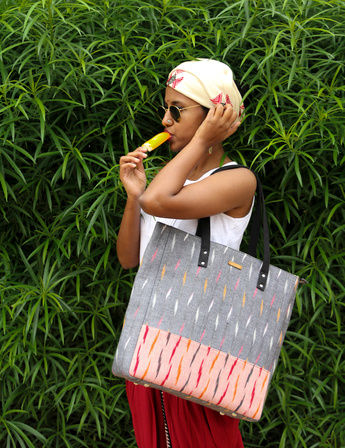 Everyday Bag
Size:  Big 
Style with:
Fusion
Office Look
Casual Look
Duffle Bags
These bags are also called barrel bags because of its shape. Shaped like a barrel Duffle bags usually come with shoulder-length handles as well as with longer slings. They were used traditionally used for travel or for sports equipment. However, our duffle bags are smaller in size and are elegantly made using beautiful Ikats and Kalamkaris to go with you Sarees to your Little Black dress. Our duffle bags come with studs on the base and they sit beautifully on your work table or coffee table.
Our special edition of Silk Duffle Bags are meant for special evenings when you do have to carry a few things.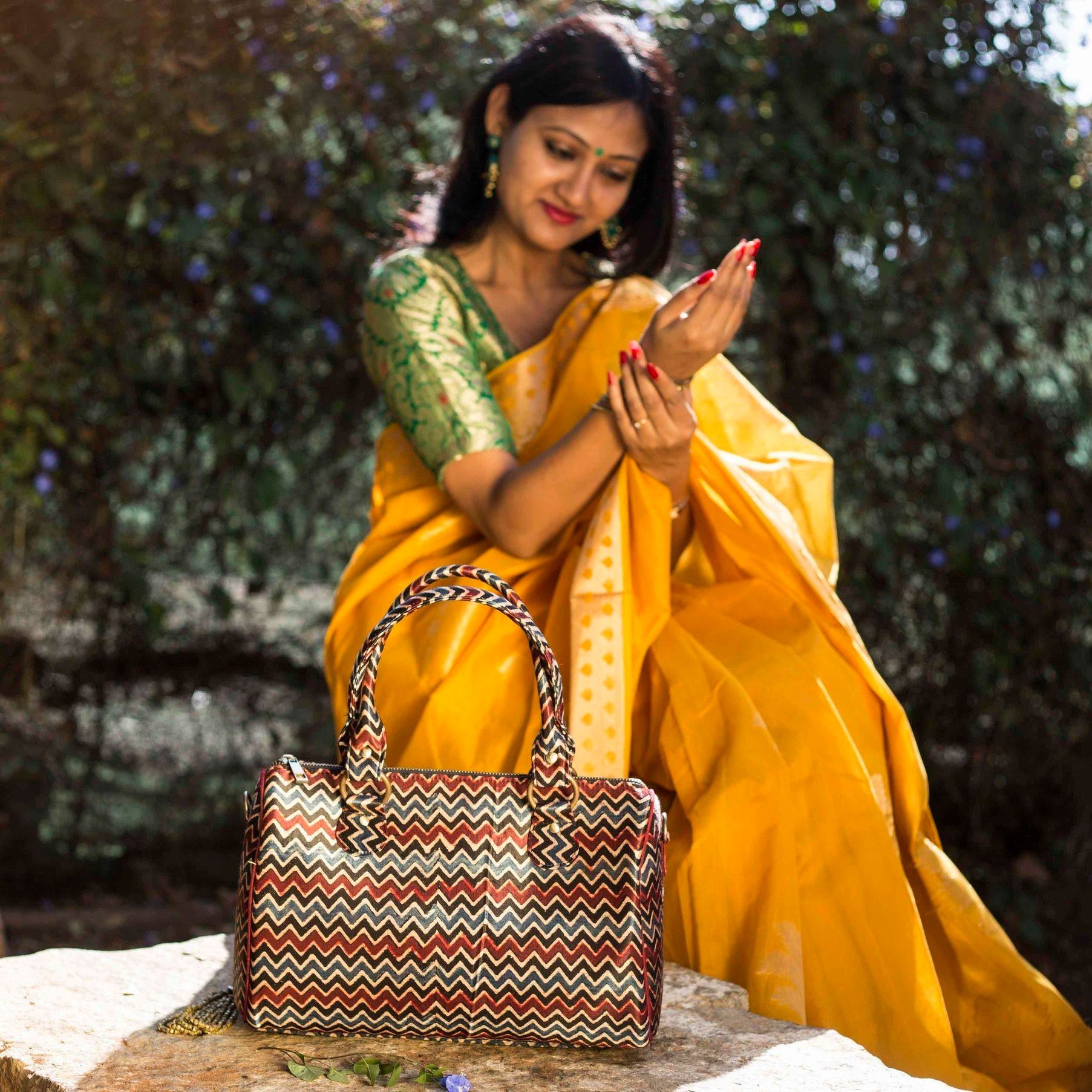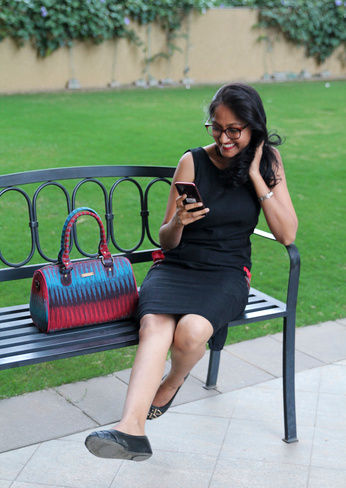 Look 2 ~ Bag currently out of stock
Outings/Evenings/Weekend Bag
Size: Small to Medium
Style with:
Saree
Dresses 
Kurtis
Pants
Box Bags
Our Box Bags are our version of shoulder bags with a twist. With their firm shapes and handy size ~ the box bags can be teamed up with any attire.  These gorgeous one sit elegantly and are great for office as well as going out with friends for a coffee catch up. 
Our Jute Fusion Box Bags even come with longer strap.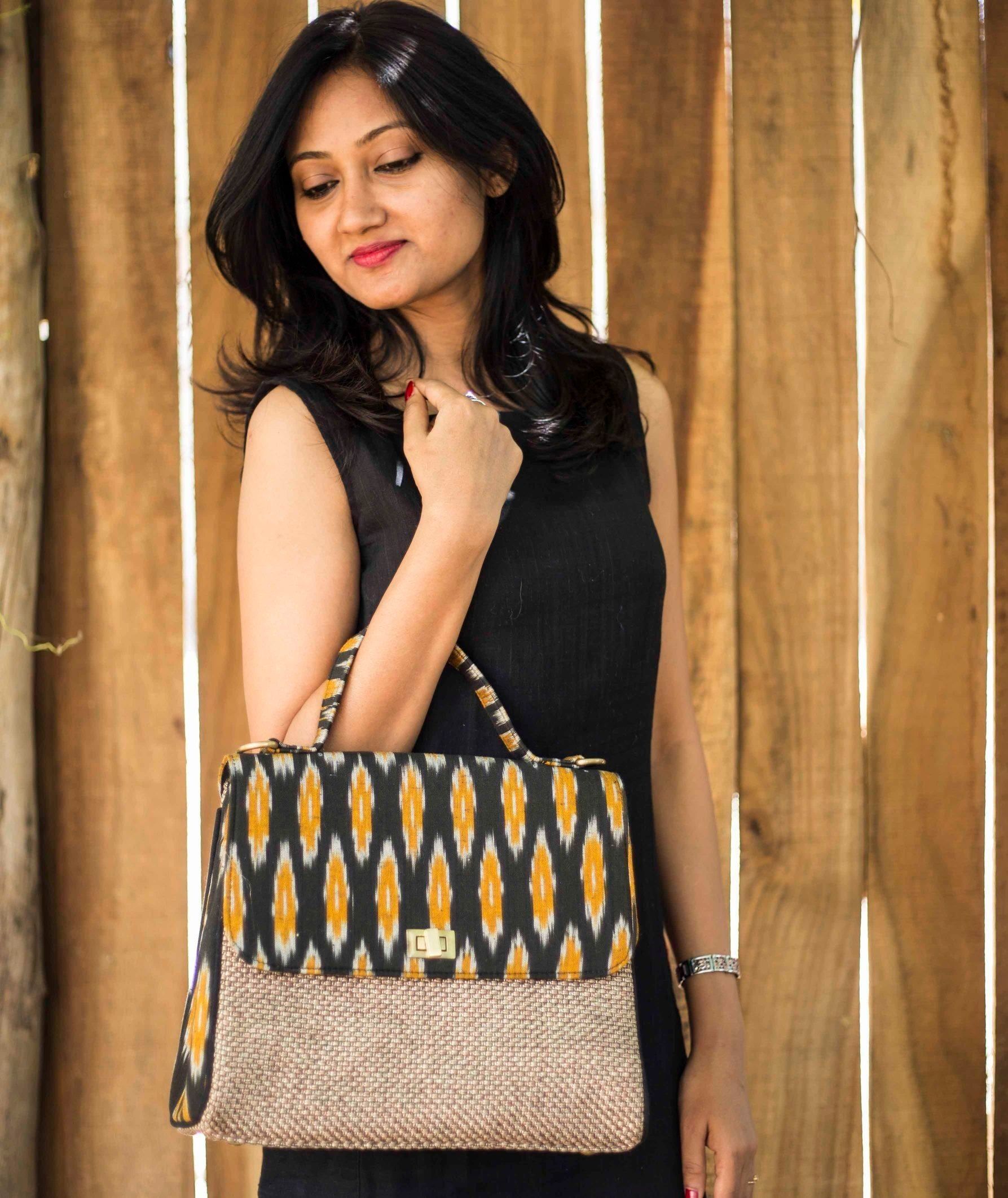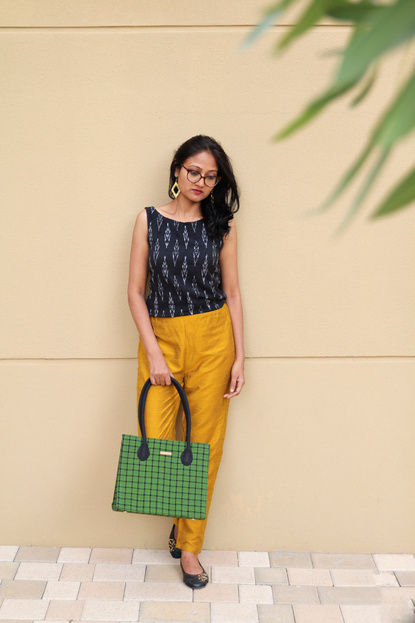 Outings/Office Bag
Size:  Medium
Style with:
Silk pants
Dresses
Skirts
Sarees
Messenger Bags
Inspired by the bags used by our good old postman, these bags come with long straps and no handles. These bags are spacious and are usually worn as a cross body. In modern perspective, they can also be used to carry your tablets/iPad. 
I use them as an alternative to my laptop bag for a more casual look and it can also be your weekend office bag.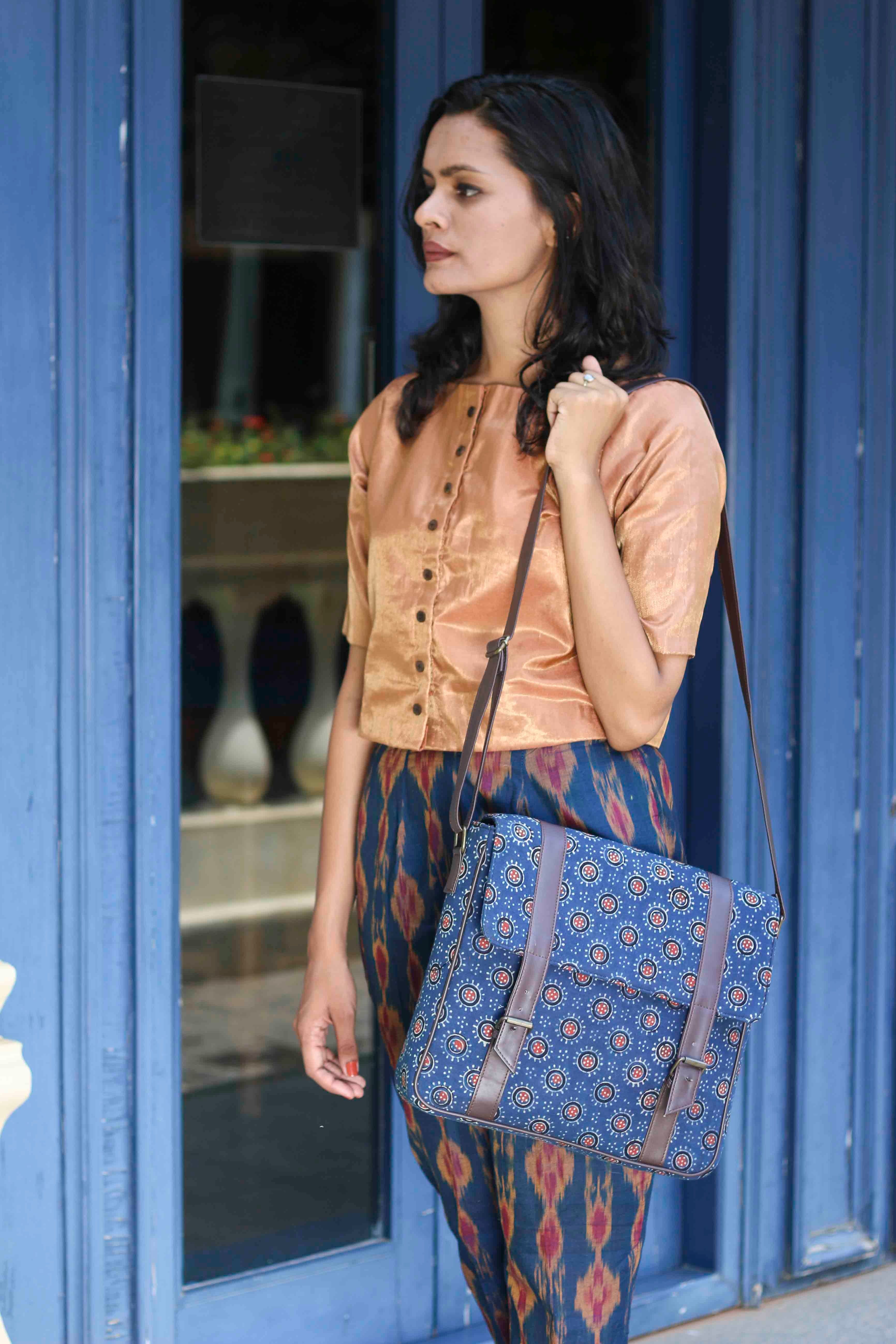 Look 1: Bag currently out of stock
College Bag/Weekend Office bag
Size: 

 

Medium to Big
Style with:
Pants
Dresses
Semi - formal
Casual Look
Cross body/Sling bags
Although all the bags that come with longer straps or slings can be called Sling bags, but the difference is usually in the size. Sling bags are smaller and come handy when you do not wish to carry a big bag. I find them extremely convenient for vacations.  Just perfect to carry your wallet/cash and few other knick-knacks and you are good to go out.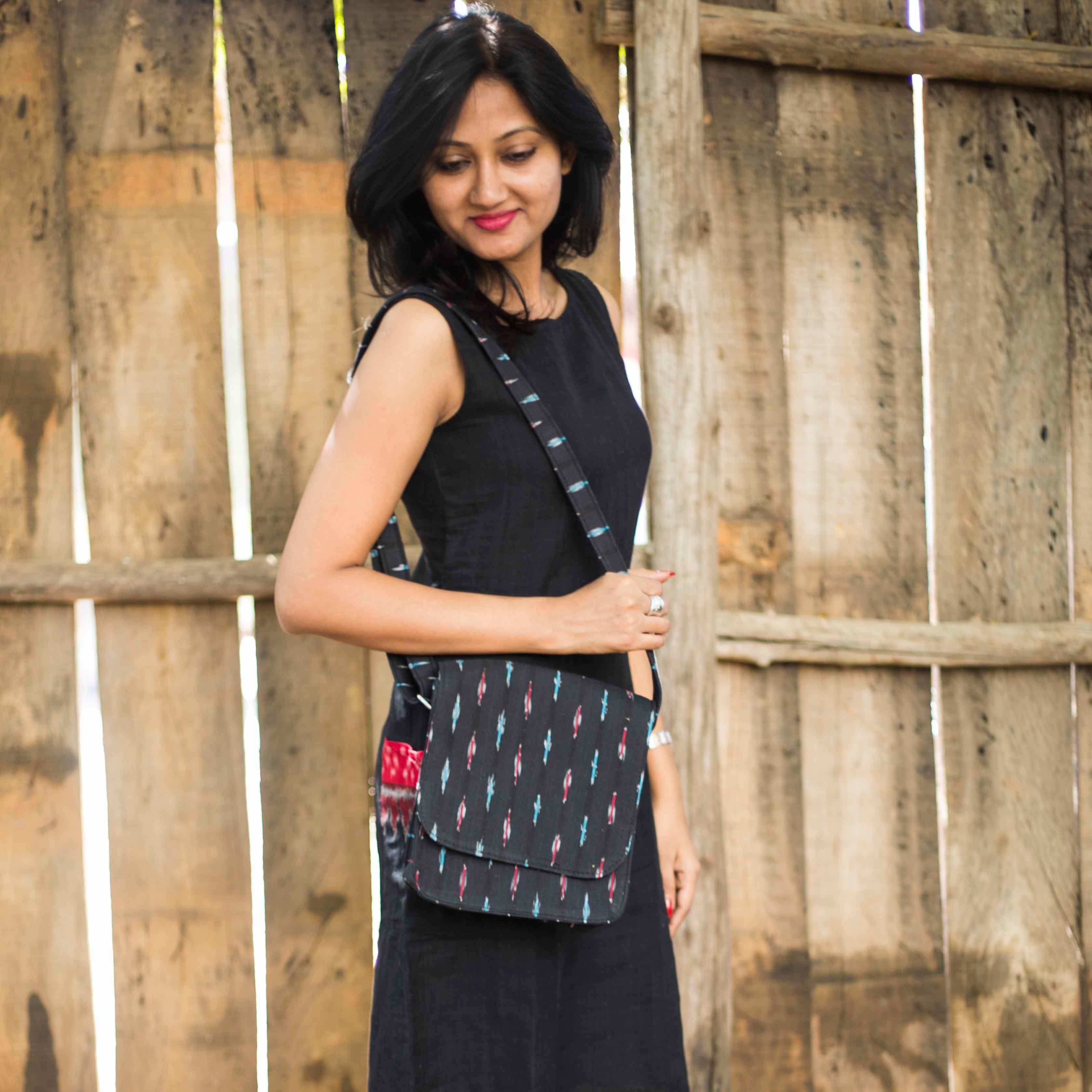 Look 1 ~ Bag currently out of stock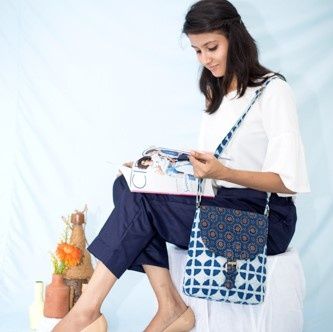 Weekend/Outings/vacations
Size: 

 

Small
Style with:
Pants
Shorts & Tees
Dresses
Skirts
Suits
Round Bags
I personally call them Dhol Bags because they look like a small Dholak ~ a music instrument I love so much. These super quirky shape bag are just perfect to glam up any attire for the weekend or a vacation. We have jazzed up our round bags by combining contrast colors on both sides: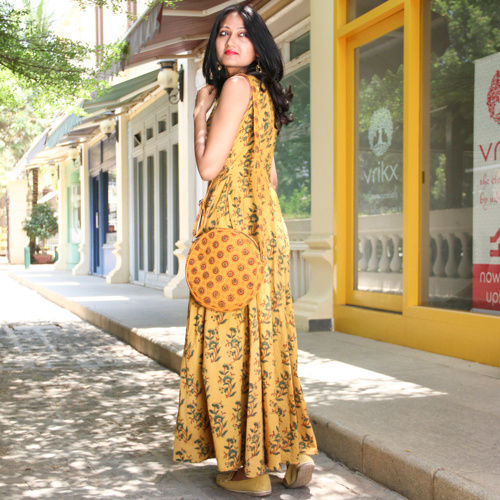 Weekend/Outings/vacations
Size:  Small
Style with:
Pants
Shorts & Tees
Dresses
Skirts
Casual
Fun outfits
Clutches
The clutch is a small hand-held purse which is meant to be clutched and hence the name. These small purses are used to carry cash, phone, cards and key. A silk or embroidered clutch is ideal for evening parties and go beautifully with your sarees and party wears. A rather simpler version in cotton or simpler material is perfect to carry day to day activities. They are extremely handy so can be easily kept in your bigger handbags as well.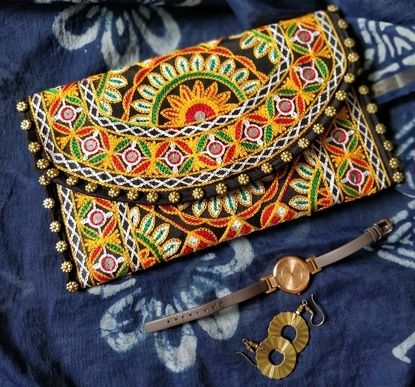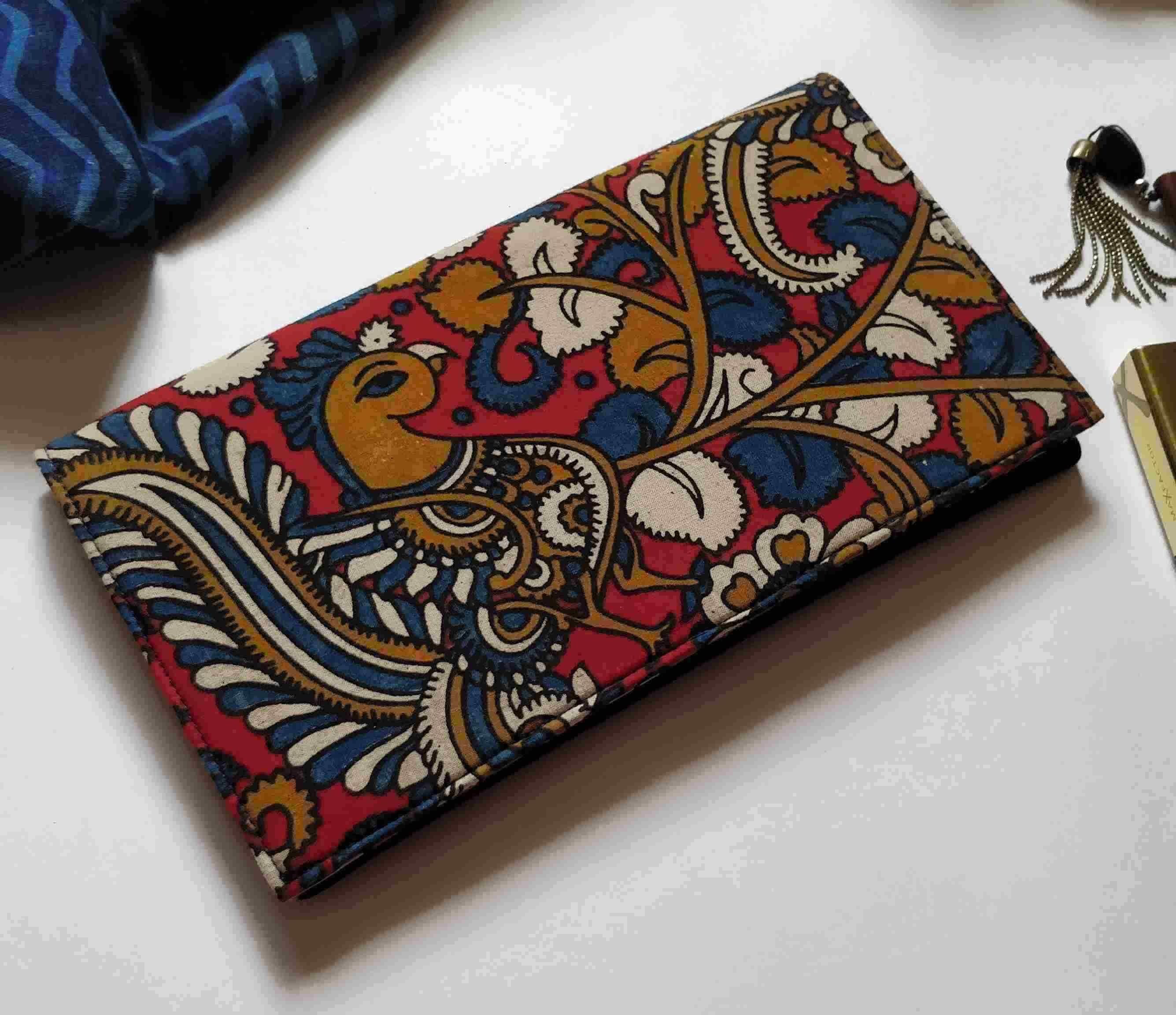 Look 2 ~ Bag currently out of stock
Evening or As Everyday Clutch
Size: Small
Style with:
Casuals
Sarees
Formals
Semi-Formals

These names are not a must know, however, it is always good to know what you own. But more important is to just know what you need. As much as we all love our bags, it is the lady who is carrying these bags and her requirements which are most important! So go ahead and give your bag the names you like. Say Bagwati! :)